Fleet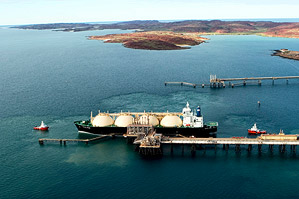 The North West Shelf Shipping Services Company (NWSSSC) vessels that service the Australia-Asia LNG trade route are designed to ensure safe, reliable and efficient deliveries to customers throughout the world, although their primary trade is to North Asian customers.
Fitted with purpose designed safety equipment and integrated control systems for cargo and propulsion machinery, the ships are designed to meet the requirements of the loading facilities at Withnell Bay in Western Australia, as well as the discharge terminals in North Asia.
Each vessel's twin boiler and steam turbine drives a four-bladed propeller and provides flexible, reliable and economic operation over a wide power range. The boilers are capable of using either fuel oil or 'boil off' gas from the LNG cargo, or combinations of both.
The first six sister ships are of the 'Moss Rosenberg' design and each has four spherical cargo tanks which hold LNG and give the vessels their distinctive outline. Nearly 40 metres in diameter, the storage tanks can hold a total of 125,000 cubic metres of LNG.
At 272 metres long and 47 metres wide, the six Moss vessels that service the Australia-Asia LNG trade route have a design draught of about 11 metres; considerably less than a crude oil carrier of similar dimensions,  as LNG has a specific gravity of only 0.46.
LNG can be loaded at 10,000 cubic metres per hour and discharged at 11,000 cubic metres per hour. Each vessel takes approximately 21 days to complete an Australia-Korea or Australia-Japan round voyage. The China voyages usually take about 16 days. As the ships reach their 20th year in service, they undergo a major refit and system upgrade to ensure they remain fit for purpose to the highest standards of safety, reliability and integrity.