Moss Rosenberg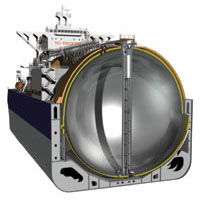 The Moss® spherical containment system has until recently been the leading seaborne LNG transportation system since its inception in 1971. The patented design has been licensed to shipyards all over the world, with more than 100 vessels now in operation.
The simplicity of the spherical shape of the Moss® LNG tank enables high accuracy of predicted stresses and fatigue life of all parts of the tank structure, thereby eliminating the need for a full secondary barrier. The tanks are generally made from Aluminium and supported around the equatorial ring by a structural transition joint (STJ), which also acts as a thermal break between steel and aluminium.
The tanks are then insulated with polyurethane foam which is purged with Nitrogen. A partial barrier in form of a drip-tray beneath the sphere is fitted. A gas sampling system is fitted to detect any signs of leakage.
The complete tank and hold space are protected by weatherproof cover.
Features of the Moss containment system: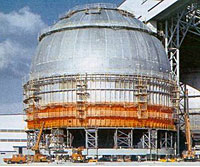 Poor fit in ship's hull – ball in a box.
High windage on ships – slow speed manoeuvrability difficult.
Tank temperatures must be carefully controlled (equatorial tank temperature must be < -119C for loading).
Cool-down rate usually about –6C per hour.
Wall thickness varies between 28-32mm at Poles and 160mm at equatorial ring.
Tank weight about 800 tonnes.
Superstructure has to be high to see over tanks - airdraft becomes limiting factor at some ports.
The advantages of this design are:
Partial loading at any tank filling level is inherent in the design.
LNG tanks are independent from the ship's hull and are neither essential to the hull strength nor affected by possible damage to the ship's hull. This is a key element in the safe operation of this type of LNG carrier.
Very low LNG heel is possible with spherical design tanks.
Tanks can be partially pressurised for emergency discharge of cargo.