Membrane Containment System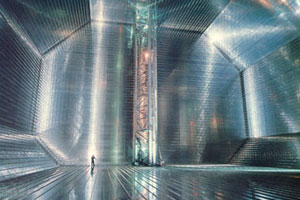 LNG containment systems of the Membrane design generally fall into two categories that were originally designed by the two separate companies, GAZ Transport (GTT) and Technigaz.
Both are similar in that they comprise of primary membrane barrier, insulation, secondary membrane barrier and further insulation in a sandwich construction.
The membrane may be Invar (Gaz Transport) or stainless steel (Technigaz) - the Northwest Swan is of the GTT NO96 design with Invar primary and secondary barriers.
The membranes in the NO96 design are 0.7mm thick, each layer of insulation is about 300mm thick. The tanks are not self supporting as in the Moss design, they are built against the inner (double) hull of the vessel. Nitrogen is purged through the insulation layers and a gas detection system is installed.
Features of this design: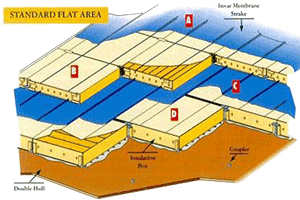 Membrane tanks built into ship.
About 70km of welding in tank membranes.
Quicker cool-down rate due to lower mass of tank material.
Good visibility from navigating bridge.
The advantages of this design are:
Less vessel displacement for same cargo capacity.
Ability to scale up to larger capacity without radically increasing vessel dimensions.
Quicker cool-down times.
Lower windage area means better manoeuvrability at slow speeds.
Better visibility from navigating bridge.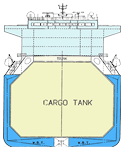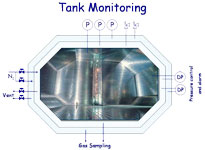 Explore the Project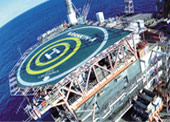 North West Shelf Project fact sheet
Download the North West Shelf Project fact sheet - NWS Brochure