Shipping Services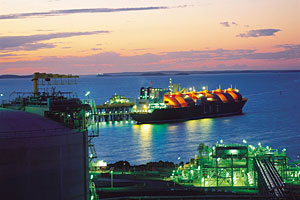 Ship management requires expertise in LNG shipping and access to experienced professional technical and commercial staff. North West Shelf Shipping Services Company (NWSSSC) technical and commercial employees are seconded from the Project participants.
In conjunction with LNG supply, NWSSSC provides a range of LNG shipping solutions, including delivered sales, shipping partnerships and consultancy services. In developing these solutions, NWSSSC has the ability to draw on its own expertise, as well as that of the North West Shelf Project participants and North West Shelf Australia LNG, the Project's LNG marketing agency.
Symbolising the historical link between the North West Shelf Project and its foundation customers in Japan spanning nearly 30 years, the NWSSSC fleet are named after birds which are either permanent inhabitants or regular visitors to both Australia's North West and Japan.